YOUR FAMILY-LEADED 4 * BUSINESS HOTEL WITH HEART AT MUNICH
Professionalism and hospitable warmth at an ideal location in Munich
"In the case of doubt, you opt for what is right." In keeping with this quote by Karl Kraus (1874-1936), we offer you the ideal conditions at the 4-star Arcus Hotel for trade fairs and business to find a place of retreat far from the hustle and bustle, where relaxation and genuine hospitality abound.
The unique location in the healthy natural surroundings of Munich Weißenfeld and the direct connection to the motorway network give you the special experience of natural surroundings and a stress-free journey to our hotel. No matter whether you are visiting a trade fair in Munich, planning a trip to the city with friends, are a passionate motorcyclist or want to hold a seminar with us: we put our heart and soul into our role as your hosts and are always there for you, happy to advise you and take care of all your wishes.
The Arcus-Hotel is a family-run 4-star business hotel in the East of Munich, which is characterized by its warmth and laughter.
Though in a prime, quiet location in Munich-Weissenfeld our hotel is still only a few minutes away from the "Messe Munich" the exhibition and fair ground. Our hotel offers modern comfort for business travellers as well as for private guest with a relaxed atmosphere and a friendly and excellent service.
SLEEP
Restful sleep is one of the most important things after a busy working day. Our comfortable rooms provide all the amenities you need for your stay. In addition to our single and double rooms, you also have the choice of booking one of our double rooms with waterbeds. And if you travel with your kids, family rooms are available.
All 50 rooms have free Wi-Fi, telephone, mini bar and modern flat screen TV with SKY.
BREAKFAST AT THE ARCUS HOTEL
Start the day as you mean to go on! Well rested and ready for activities in and around Munich, we welcome you to the de luxe breakfast buffet. The finest sausage and cheese specialties, muesli, sweet spreads, egg dishes, fruit and fruit juices and many new creations every day that taste wonderful and give you strength for the whole day.
Allow yourself to be pleasantly surprised. Ute Froschauer and her breakfast team will serve you fragrant coffee and are happy to take care of your wellbeing. You can start your seminar, trade fair or excursion to Munich, the nearby capital of Bavaria, revitalised and full of energy. Enjoy your valuable time with us at the Arcus Hotel.
COCKTAILS, WINE, ETC.
It's always time for champagne? We at the Arcus Hotel definitely think so. Because not only is our bar open 24 hours a day, it also offers everything a true connoisseur's heart desires. 217 different spirits, a large selection of aperitifs and digestifs, the finest wines, freshly tapped beer and of course many non-alcoholic refreshments.
The bar is the meeting point during the day as well as in the evening for a relaxed end to a strenuous business day in Munich or a seminar held at our Arcus Hotel. The bar is a matter for the boss and you can look over his shoulder as he personally creates your favourite cocktail for you. Cheers! Enjoy your stay!
THE FINEST WELLNESS
Peace at last. Take some time for yourself. The pleasant warmth feels so fabulous! After an active day, body and soul are longing for relaxation. Our new modern wellness area is the ideal place to relax. It's up to you whether you choose the heat of the Finnish sauna at 90 degrees or the mild heat of the bio sauna.
Afterwards, our "resting rockers" invite you to relax and do nothing at all. Take your time for these soothing rituals and make sure you drink plenty after your sauna. Flavoured fresh water and healthy dried fruit are available to you at our vitality bar.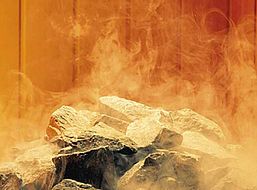 MEET IN THE ARCUSHOTEL
Are you planning a conference or workshop? The spacious meeting area with a total of around 105qm offers you the ideal space for up to 60 people. The reception team will be happy to arrange an individual offer according to your wishes.